Google My Business Services with JJ Web Design
What is Google My Business and WHY do I need it?
Let's start with it's FREE!!! Who doesn't like FREE??!?! Google My Business Services helps businesses create and manage their listing. What listing? Well, anytime you do a Google search - this is the information that will appear in Google Maps and on the right side of Google….if you don't manage your listing - you are missing out! Did I mention it's FREE?!?!?! The listing shares information about your business as well as attracts new customers.
WHY?
Over 50% consumers search online, over 75% on google!!!

Most powerful and FREE – google reviews!!! (5 for optimum results)

Over 50% of consumers will look for directions vs call...if they can't find or verify you online….they probably won't visit you!!!!
A few important details to keep in my with Google My Business -
Primary Business category – there are 3,942 different categories Google has to choose from! You want to be wise in the category you choose that best suits your business. There are additional categories that you can add to your "Primary Category".
Service Areas – you are limited to attaching 20 service areas to your listing. If you do local business only, you would list your local community. Online businesses that do business around the country would want to include areas where their service/product would be in high demand.
To the right is JJ Web Services and More LLC's Map Listing. You can also view JJ Web's Google Map Listing here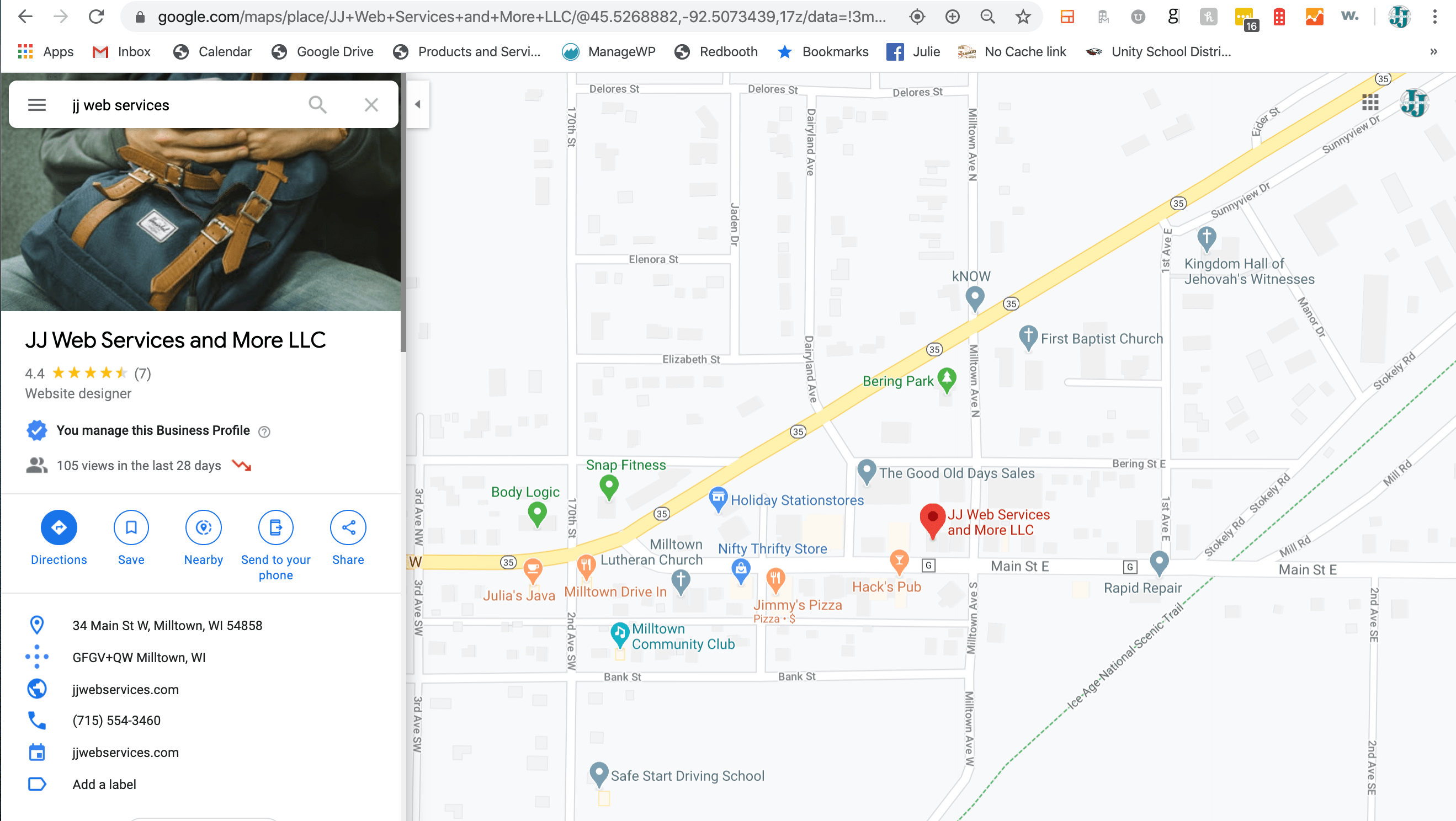 You want to be able to place great images or videos in each place that applies to your business.
Posts – this would be similar to Facebook posts. You should be posting on GMB once every 7 days at minimum. Businesses that use Google products frequently tend to be favored. Did you know Google owns YouTube? Having good content on both platforms is very helpful AND they can work together!
Optimize your Google listing today with Google My Business Services by JJ Web!
Just fill out Google My Business Request Form and we'll be happy to help with at whatever capacity you'd like!
Below is a search for JJ Web Services in Google. The section in the yellow box is organic search results; which we complete onsite SEO and offsite SEO to get our clients ranking nicely in Google for their business name, as well as any keyword phrase they want to be ranking for.
The red box section on the right column of the image below is the Google Search Listing.
Want to know how you are currently ranking for a variety of keywords? Click here to view our SEO Audit services