~ Caitlin ~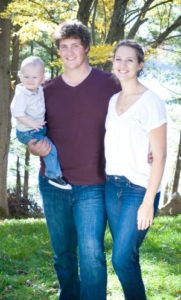 Caitlin is a writer with a keen attention to detail, conscientious and efficient approach to her work, and innovative style. She is passionate about great writing and excellent presentation and has a natural propensity for visual appeal and flow in her writing and delivery. She is a recovering perfectionist, giving her an advantageous position in the writing and web design industry.
Through starting and running a blog, managing the office and marketing for a small business, and her college education, Caitlin has acquired the skills that make her adept at writing, editing, marketing, social media advertising and promotion, newsletter crafting, graphic development, communications, and more. Caitlin is intelligent, focused, and driven to deliver above-average, quality workmanship in her professional and personal life.
Personal: Caitlin lives in Wisconsin with her husband, Ethan, and two children: Oliver and Ona. When she's not reading or writing, she loves to spend time outside with her family and consume copious amounts of coffee, chocolate, and Italian cuisine. She also enjoys coaching local volleyball teams and does some refereeing of the game when an opportunity arises.
Content Writer & Website Consultant