Integrating QuickBooks Automation to Marketing Tools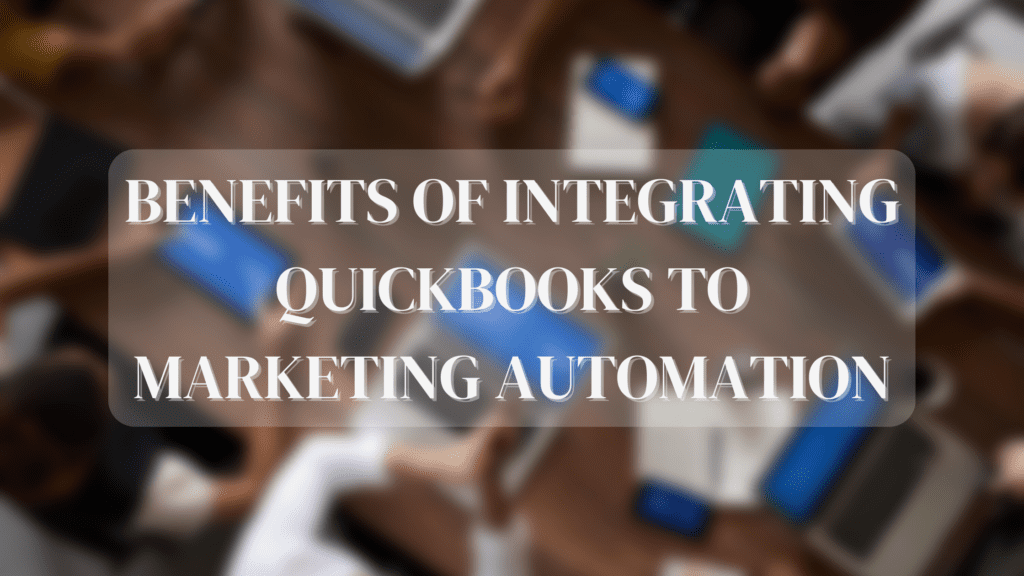 QuickBooks is software that is mostly used by accountants or financial controllers on small businesses to keep easy track of their daily expenses and revenues, insurance, and other money-related tasks. It is the most popular small business accounting software. But have you ever thought of trusting QuickBooks with your marketing automation needs?
Building relationships with your customers is essential to the growth of any business. It helps nurture and improve your current customer base while at the same time increasing new customer acquisition. Integrating QuickBooks with your Marketing automation tool can help you better manage and leverage data to market more strategically so you can develop meaningful relationships with your audience.
Benefits of Integrating QuickBooks to Marketing Automation
If you are using QuickBooks to manage your business, then you should also be using it to manage your marketing automation as well. This will help you achieve the following benefits:
Manage Your Budget
Integrating QuickBooks with your marketing automation will help you monitor your budget. You can track all the expenses that have been made on various campaigns and see how much money has been spent. This will help you plan for future campaigns and ensure you do not overspend.
Strengthen Your Business
Integrating QuickBooks with other software allows for better communication between departments within a business. For example, if you're managing multiple social media accounts or have an eCommerce website, integrating QuickBooks will help you keep track of everything that's happening behind the scenes and how it affects each other
Increase Productivity
By automating some of the manual tasks associated with accounting, it becomes easier for employees to focus on other projects that require their attention, such as working directly with customers or developing new products and services for clients. With automated workflows built into your marketing automation platform, you can free up resources that would otherwise be spent on manual processes like data entry. This will allow you to focus on higher-value tasks like generating new leads or nurturing existing ones through follow-ups or upsells.
Streamline Your Processes
One of the biggest challenges for small businesses is getting organized. Integrating QuickBooks with your marketing automation software makes it easy to streamline processes like invoicing, payments, billing, and more. This helps you save time and money to focus on growing your business instead of wasting hours each week on administrative tasks.
Get A Handle On Your Data
Marketing automation software collects data from all aspects of your business — social media activity, website traffic, and customer interactions — so that you can see everything in one place and make better decisions based on this information. When combined with QuickBooks, this data is even more powerful because it gives you a complete picture of every part of your business. You'll be able to see where customers came from and how much each customer spent during their last visit or transaction. You can also see what other products they purchased from you (or other vendors), which could help identify useful trends.
Tips on How to Integrate Quick books with Your Marketing Automation
If you use QuickBooks alone, you'll find yourself working twice the amount of time you need to. That is because QuickBooks is a business management tool — not a marketing one. It doesn't offer any automation for lead generation or sales prospecting. You need other tools to fill those gaps. If you need help learning how to use QuickBooks or want to integrate QuickBooks with other tools, here are some tips:
QuickBooks Integration with Project Management Tools
If you want to integrate QuickBooks with other tools, we recommend using Zapier. It is a free tool that allows you to create automated tasks between your favorite apps. You can also create custom workflows that save time and make your life easier! Integrating QuickBooks with other apps, such as Google Sheets or Gmail, can save time by automating repetitive tasks and making your life easier!
Integrating QuickBooks with MailChimp
MailChimp is one of the most popular email marketing platforms today because it allows users to create beautiful campaigns without any coding experience. It also integrates seamlessly with Zapier, which means that you can automate sending emails from your business directly into MailChimp. This can be helpful if you want all of your customers' information in one place so that when they come back for more information.
Integrate your website with QuickBooks
If your customers are going through a website and purchasing from there, then it makes sense to have them do so from within QuickBooks. You can use applications like Zoho CRM or HubSpot Salesforce to push information back and forth between the two systems.
Add Eventbrite to your list of tools
Suppose you send out physical or virtual items such as e-tickets or t-shirts. In that case, Eventbrite is an excellent tool for managing sales and distributing them through QuickBooks without having to worry about manually entering all of these orders into the system.
Make use of Google sheet to Back up
It's always a good idea to back up your data, and having an automated solution for this can save you time and hassle. A great way to do this is to set up sheets in Google Sheets that automatically pull data from QuickBooks periodically. This will give you an extra layer of security in case anything goes wrong.
Conclusion
Integrating QuickBooks with marketing automation will help you create a simple structure for your business. This, in turn, will contribute to higher productivity, conversion rates, and increased revenue. But if all the above sounds too complicated or you feel it's not worth the hassle, contact JJ Web Services today. Our website integration experts will help you get started and alleviate all your concerns.