Mobile Website Design
Mobile Website Design by JJ Web Services provides you with a website that is specially designed for cell phones and smartphones.
Mobile Websites are custom designed for a small screen. They include built–in "auto–detection" which ensures Smart-phone users see your mobile website, while desktop and laptop users see your standard site.
If you don't believe Smartphones are important to your business, consider this:
2013 is the year Mobile Web is predicted to take over desktop Internet usage. (Source: Gartner)
45 million is the total estimated number of Smartphone users in the U.S. today. (Source: ComScore)
Smartphone users are twice as likely to earn $100k+ per year than "dumbphone" users. (Source: Nielsen)
Mobile Internet matters to your business today!
Get Smart – Go Mobile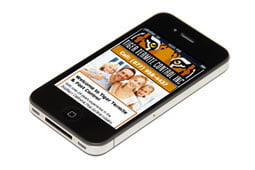 Contact Us Today for a FREE Mobile Website Design Quote!
(715) 554-3460 ~ Email Us
Do This Now: Visit your Website on a Smartphone. Does it pass this checklist test?
The site loads very quickly with no lag.
The phone number is LARGE and easy to find.
The text is in a LARGE font – you do not need to zoom in to read it.
There's just one photo, and it's big and easily recognizable.
When you "click" the phone number you have the option to instantly call or text.
Does your Website pass the test? If not, the fix is a Mobile Website.

Mobile Website Design by JJ Web Services in WI, serving our local clients in Polk, St. Croix, Barron and Burnett Counties in Northwestern Wisconsin, Minnesota, Illinois and nationwide.