Real Estate Website Design for Agents
JJ Web Services offers a real estate website design software that allows you to create an outstanding real estate website for your business!
We know what agents are looking for in a real estate website. If you want total control, we can customize the real estate program to meet all of your needs, or we can get you up and running in minutes with an easy to use real estate software website. Our internet marketing solution will give you the platform to reach more potential clients.
In your quest to attract more property buyers and sellers, your first goal should be to create a strong online presence that shares your brand and services effectively.
With a professional real estate website design from our team at JJ Web Services, you get the solution you need for success.
Our real estate website design software puts the power in your hands.
Without any technical or programming knowledge, you can have an agent real estate website that attracts the attention of people interested in purchasing a home, commercial property, or a cabin.
We have developed a real estate property listing system that allows you to get up and running in hours. Forget waiting months to have a website and start your real estate internet marketing strategy today.
What do real estate websites for agents require?
With our years of experience in design, search engine optimization, and many other types of internet marketing, we have the skills and know-how to deliver a website design that is both attractive, functional, AND high ranking for GOOGLE.
Our real estate website design platform gives you the control if you need any future changes. You can add new properties with ease, edit the descriptions to entice more buyers, change your personal message, and so much more. User-friendly systems are accessible for everyone. Plus, property Listings sync right from your MLS, so there is no double entry.
Do you want a customized solution for real estate website design?
JJ Web Services offers unique customized website design services. These include professional consultations between our design experts and you, the real estate agent. Let us help you create the foundation for a strong real estate industry business on the world's most popular content management system - WordPress.
This way, you get the same content management access and flexibility you need to run your business right. Every step of the way, our professional designers will help develop your real estate brand and capture the attention of your clients.

Real estate websites for agents need flexibility and growth potential.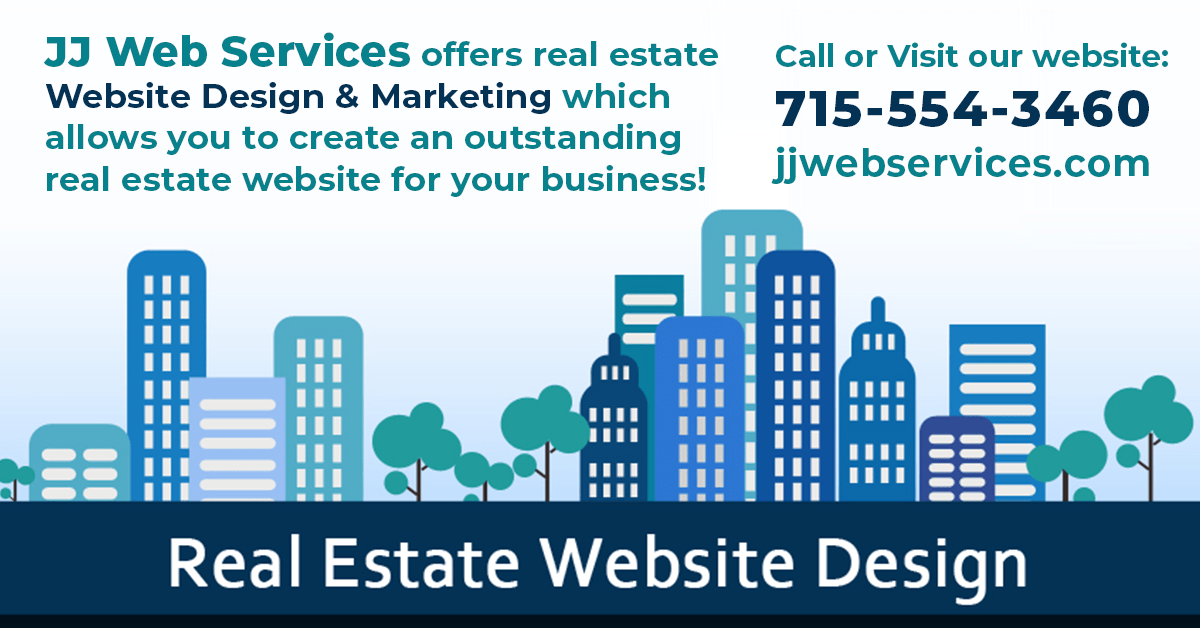 Forget trying to fit all of the important real estate industry and company information on a boring, static website. You need more than an online business card to compete with other agents in your area. That is why we at JJ Web Services specialize in customizable online solutions that offer plenty of growth opportunities now and into the future.
With our unique real estate website design software, you can easily add content as needed, remove out of date information, and keep your site visitors current with the market and available properties. As your commercial or residential real estate business grows, your website can grow right along with it.
Are you ready to get more attention with the right type of real estate websites for agents? Contact us at [email protected] or by phone 715-255-0449‬ to learn more or to get started.
Check out our website development, internet marketing, social media marketing, Google App Consulting and other essential business services for a comprehensive approach to your real estate industry success.