6 Web Design Guidelines for Non-Web Designers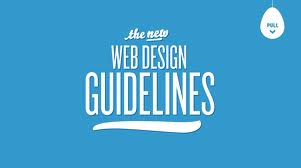 We have come up with guidelines that will assist you while speaking to your designer to create or change something in a website. These tips will make it easier for you and your designer to interact.
Use only two to three colors
Keep in mind that you are not in a circus or carnival, and too many colors make your page hurt the eyes. Make note of a couple brand colors you want to use. This will add consistency to your website.
Follow basic design principles
Keep items, such as logo and navigation of the same place on each page so that it is easier to find. Label pages and sections with relevant words. It is better that your visitors know how to do something rather than be delighted by your creative names.
Go slow on the typeface
There are a million type faces out there but that does not mean you can go over board on keeping even a dozen of your favorites. You should do a maximum of two. Be neat and use two or three fonts at the most so that viewers can easily read your content.
White space is not just for art projects
The space between each element or section on your website makes your visual design look neat. Ensure that too many things are not cramped together or else it becomes difficult to differentiate each individual element and equally tough for visitors to choose what they should actually do.
Less is more when it comes to elegance in designs. People will end up picking none when bombarded with too many options. Minimalism can be bright, bold and colorful. It doesn't have to be muted and boring.
Minimalistic navigation items
Few menu items can mean quick scanning and finding. The page naming needs to be understandable, especially to the first time visitors. Try drop-down menus or even section-specific sidebar menus if absolutely necessary. Try the first draft of your menu and make sure it makes sense from the designer's perspective.
People love scrolling
The fold area (i.e. part of a website shown without scrolling) is different on every screen, browser and operating system. It also differs from device to device. It will appear differently on a mobile device or a tablet than on a huge desktop monitor. Focus on making your content and design scroll friendly. People will in fact scroll to keep reading more.