9 Ways to Authentically Thank Your Customers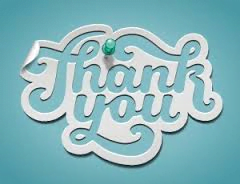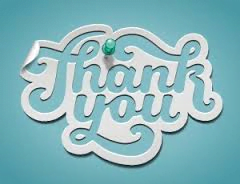 Marketers spend a lot of time on improving first impression. Are you spending time on saying a 'Thank You'? So how are you saying "thank you"? It builds a bond between a customer and you. Here are some Ways to Authentically Thank Your Customers.
1. Shopping
You always thank someone when they give you money, so how are you thanking your customers? A line on the receipt is not sufficient. You will need a beautiful design and also a to offer them follow-up information that is useful. Make sure it sounds human, and not from an automated robot. Always test your on-page "thank you" after purchase as well as the follow-up emails.
2. Signing Up
This is a common one. Saying Thanks, after the signing up is usually displayed either on-page or in an overlay. Many marketers slack on default layouts, non-conversational language, and minimal design for sign up confirmations. Since a person signs up to be a part of your brand, you owe them one.
3. Sharing
Many of the social sharing widgets on the site, do not have the option of 'Thanks for sharing'. Sometimes just thanking the customers and fans, at least once a week can work wonders. Tweet, post or mail, but let your fans know how much their sharing means to you. A bond based on authentic touch points goes a long way.
4. Being Part Of the Community
Sometimes we overlook the opportunity to say thank you to those who have been there for a long time. Building a community is just as hard as building a company, product or service. It takes dedicated fans to give time and interact with others. Don't forget to thank your community ever. You could thank them in the form of special gifts or coupons, or send a special "We appreciate you" when they log in.
6. Referring
When your customers or fans refer a friend to your service or brand, a thank you is obvious. Brands should not forget this. To promote your brand on your behalf is a favor, so you owe them a 'Thanks' or probably more. Consider rewarding them with a gift, coupon, or social shout out. Refer-a-friend widget programs and social recruitment campaigns are other options.
7. Feedback — Good & Bad!
Customer feedback is a fuel for your business. You need to keep a look out on what they need, what they are liking and what they want to see more of, etc. Next, thank them for their feedback, whether it is good or bad. You can do more with this. You can show gratitude with handwritten cards from your product team, special discounts, or an email that simply says, "We exist because of people like you." A 'Thank you' will ensure that the feedback will keep coming as the customers realize that their time spent is appreciated.
8. For Support
You thank your community members, but do you thank your influencers and strong fans? It could be a blogger or a journalist that covered you last month. Thank them sincerely and frequently for making your job easy. You can either publicly or privately recognize them and their status as a super fan. You can even fly them out to meet the team, give their profile a special badge, or grant them a certain type of status. Make them feel special.
9. Random Thank You
You also have a something like "random moments of delight." This means randomly thank all customers, community members, and fans (in fun ways). It gives your brand a personality. Examples of this type of campaign might include sending an email when it's a customer's "birthday" with you or when they have logged in a certain number of times or simply on a Wednesday, you tell your customers a 'thanks for being there for us'