A Brand Refresh with Canva: Tips to Build a Successful Brand Refresh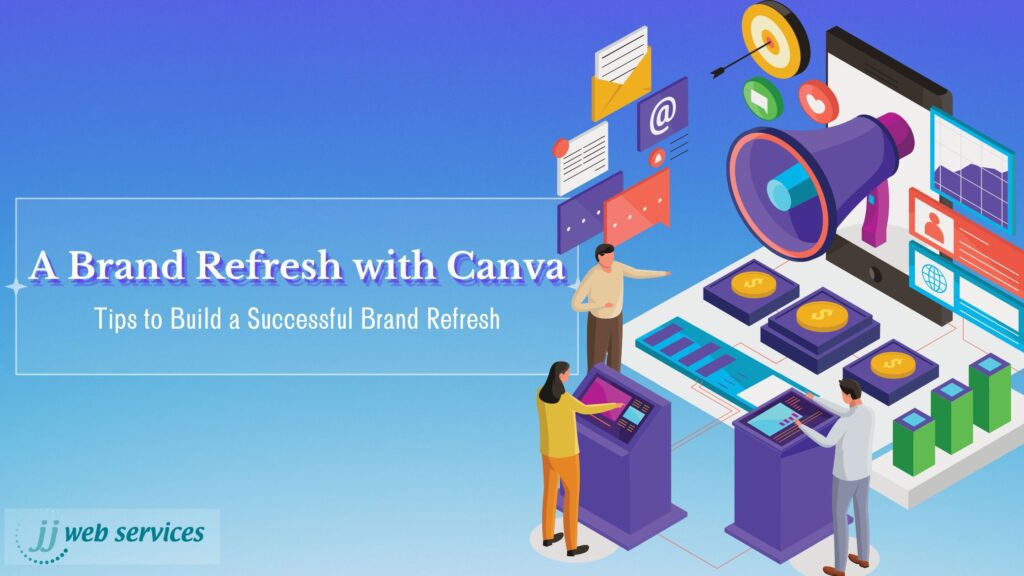 A brand refresh is just what it sounds like: It's an opportunity for you to take a look at your brand identity, assess whether it's meeting its goals, and make any needed updates or changes that could be the key to helping your business achieve greater success. A brand refresh is an exciting and important time for any company. A refresh can help your business stand out from the rest and feel like the perfect opportunity to bring new energy to your team. But a brand refresh can be a big undertaking, especially if you're doing it for the first time. With the right planning and design resources at your disposal, however, you can confidently tackle it.
Brand refresh vs. a Full rebrand
If you're planning on rebranding, you might wonder how to tell if it's the right time for your business. This guide will walk you through some of the key differences between a brand refresh and a full rebrand. We'll also give you tips on ensuring that your new look stays true to your brand's core values.
A brand refresh is when you make some changes to your logo, color scheme, and other elements of your brand identity. This can effectively give your business or product a new look without starting from scratch.
On the other hand, a full rebrand can be a more radical change involving everything from your company's name to its messaging and tone. A full rebrand involves changing your company's image, from logo design to color scheme and copywriting style. Rebrands can feel like a big step because they involve such major changes. But if you're not ready for it, many benefits come along with refreshing a few elements.
When to Refresh your Brand
A brand refresh is an ideal way to breathe new life into your business and set it up for success in the future. But when is the right time? Several key factors will help determine whether now is the right time for a brand refresh:
You're starting a new business
If you're launching a new product line or have recently started a new business, refreshing your brand can help you get off on the right foot with customers. It gives them an opportunity to get to know your business and its values before they commit. This is especially important if you're selling products or services that aren't related to what your previous company offered.
You've grown significantly
If your company has grown significantly in size or scope over time, then it may be time for a brand refresh. A brand refresh can help show consumers that they're still dealing with the same company they knew before — but now with more resources at their disposal!
Your current brand is outdated
If your company has been around for years and years, chances are its logo, and other elements of its identity have started looking outdated — or at least less relevant — than they once did. This can happen even if your brand's overall look hasn't changed much over time; simply getting older can make it feel outdated. A strong brand refresh may be just what you need to give your business a fresh start.
Your business has changed significantly
For example, if you've grown in size or expanded into new markets, this might be a good time to update your brand identity. Or perhaps your products have evolved significantly since your last refresh — maybe they're more affordable or offer more features now than before. Whatever the reason, it's worth considering a change if you're offering something completely different from what you were before.
You want to stand out from competitors.
Rebranding can help make your business unique and memorable in an increasingly crowded market — especially if you're working with a limited budget for marketing campaigns and marketing materials. When people think about your company and its products or services, they'll remember how visually appealing everything is from start to finish. And that will help them trust what you're selling more easily than if everything about your business was bland and boring looking.
How to build a successful Brand Refresh with Canva
Audit your current branding to know what needs to change
Create a brand board that will help you to organize assets like photos, graphics, and text into one easy-to-follow format.
Keep the existing brand elements you love but change the ones that need updating (Prioritize the elements of your new brand identity.)
Create a mood board that represents the feelings and emotions you want to convey with your brand.
Consider using a style guide to ensure consistency across all of your marketing materials — online and offline — including social media posts, email newsletters, blog posts, and more.
Set up a meeting with your team to discuss their thoughts on what elements make up your brand identity and how they see their role in representing it consistently across all channels.
Map out a timeline for launching new branding updates, so everyone knows when they'll be introduced into the world at large and how long they'll be live before another update takes its place (and so on).
Reasons Why You Should Refresh your Rebrand with Canva
A brand refresh is a huge undertaking for any business. It's not just about changing your logo; it's about communicating with the world and how people perceive you. Refreshing your brand identity requires careful planning and execution. You must consider everything from colors to fonts, imagery, and messaging. If you're planning to refresh your brand identity, using Canva is a great way to get started!
Canva has become one of the leading tools for creating various design projects. Whether you're a designer or not, Canva makes it easy to create professional-looking designs for your own brand or for clients. Here are some reasons why using Canva to refresh your brand is a good idea:
Aesthetics matter
It's no secret that aesthetics play an important role in how people interact with brands. If your logo looks outdated or poorly designed, then it could negatively impact how people perceive your business. A new brand identity created with Canva will give you an opportunity to give your business a fresh look and feel that will help you stand out from your competitors.
Ease of use
Canva makes it easy for anyone on your team, from designers to marketers and everyone in between, to create beautiful designs quickly and easily without having a design background or needing expensive software programs. With just a few clicks, anyone can make beautiful graphics that look professional and polished — even if they have no prior experience designing their own graphics!
Easy to share files with others.
You can easily share files with others – If you work with clients or colleagues on projects, it's important that everyone has access to the same files. With Canva, you can share designs via email and they will be automatically uploaded into their account so they can easily open them in their Canva account. This makes it much easier for everyone involved in creating a project to collaborate effectively and efficiently.
You have access to over 1 million stock images, templates, and fonts
There are so many free stock photos available for use in your designs. If none of the existing ones suit your needs, you can upload your own photos from Dropbox or Google Plus instead! There are also hundreds of fonts available in every style imaginable — from handwritten calligraphy to bold sans serif fonts — so you can easily create unique designs!
It's free!
The best part about Canva is that it's free, with no ads or limitations on what you can create. You can use Canva on any device, from a desktop computer or laptop to a smartphone or tablet. This means that no matter where you are in the world or what device you're on if you have access to the internet, you have Canva!
Are you ready to Refresh your brand but don't know where to start? Contact JJ Web Services, if you want help with Canva or anything website or marketing related.