Latest Web Design Trends to popular in 2015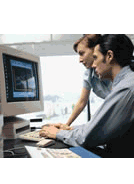 Website design is a challenging and diverse industry which presents a full spectrum of possibilities every time you produce a modern website. Developing a website is about pushing your limits and imagination to a whole new level. It is an ever-evolving industry and for any designer expert it is necessary to stay update regarding the new trends. Over the years, website designing has seen a big change in terms of new styles for presenting graphics and layouts. There are many emerging website design trends which you need to start using to build a unique website.
Long page scrolling:
Single page long scrolling web pages are a trending web design style that has gained maximum likes from website designers and developers. The witness to its popularity can be clearly when you visit Apple's iPhone 6 page which has incorporated this trend very well including lot of information at the same time making it look sleek and simple.
You can even notice other websites which have widely adopted long scrolling page for the reason: gives access to information instantly eliminating the need to click on small links to navigate from page to page
Split screen layout:
In this trend, the website is split vertically into two or more parts. The design layout is preferable for companies, which have two valuable products, or services, which they want to promote. Split screen design enables you to give importance to both items and makes it easy for users to select between any of them. However, to be true this design is not suitable for every company website as but it is gaining rapid popularity among certain web designers and businesses. Peugeot would be a good example of split screen layout.
Parallax scrolling:
This design effect has been around for since a long time ago, but its use in web site has recently become popular. In fact, it has become one of the hottest trends in website design world. Parallax scrolling creates an impressive user experience by incorporating multiple backgrounds which seem to move at different speeds create an intriguing 3D effect. This results in an exciting user experience. It will be quite fascinating to see how long parallax scrolling trend stays popular among designers, but it has created it is the most preferred design option at the moment. Range Rover Victoria Beckham has incorporated parallax scrolling web design.
Responsive web design:
It is apparent that responsive web design has become a mandated rule rather than a trend. It is a process of building a website which has the ability to adapt to any screen size of mobile devices such as a smartphone or a tablet. To facilitate the change with ease, you can use liquid layouts and CSS grid systems, coupled with media queries.
Storytelling design:
In order to deliver high satisfying user experience, designers have now adopted a new way to engage users in entertaining storytelling. Storytelling in web design makes use of various elements to tell the story of their brand through a combination of symbols, photographs, icons, typography, words, and videos. A wow factor is attained when interaction is condensed with animation in website design. Easy and Drop, a water conservation awareness site, has very interestingly presented its story telling web design.
Hidden menus:
Many websites are now hiding their main menus behind buttons and tabs. The hidden menus are only visible when visitors move their mouse on an appropriate icon. Online audiences will not get bored if you include picturesque photos which will fully justify that hidden menu in web design is an excellent choice. Spotify website features all sorts of interesting navigation elements which overlaps the current navigation options.
These web design trends are indeed becoming popular among web designers are certainly worth thinking about for your future designing projects.