On-Page SEO Checklist: Traffic in 2021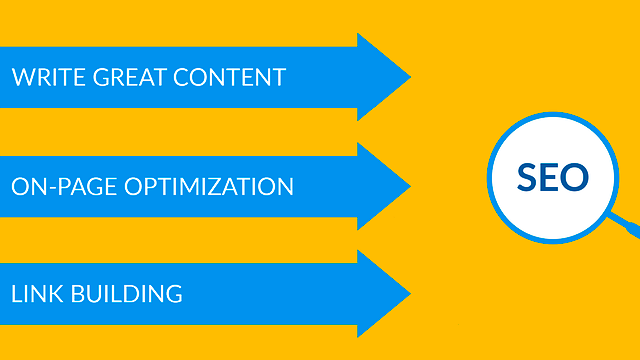 On-Page SEO Checklist: Drive Massive Traffic in 2021
On-Page SEO
If you only had to master one online marketing skill, knowing how to drive massive amounts of traffic to your content would be the single skill you'd want to crush in 2021.
Think of it this way: investing time and money into creating content for your blog or website and neglecting to plan for On-Page SEO is like jumping out of an airplane and neglecting to pull your parachute.
You'll quickly plummet into the abyss beneath you, never to be heard from again. Without proper SEO, your content will also slip into the internet abyss and no one will know who you are or what you do. What a waste!
As web developers and SEO experts at JJwebservices.com, we find that option soul crushing! That's why we have prepared a quick On-Page SEO checklist for 2021 that will get you ranked on Google and drive organic traffic to your site.
Why Should You Care About On-Page SEO?
Understanding and applying these On-page SEO factors is important because it will determine how well your page will rank in Google. Ranking on Google is paramount to getting found, building rapport with your audience, and driving conversions (whatever conversions look like for you or your brand or business).
What is Search Engine Optimisation (SEO)?
We like how Moz defines it:
"On-page SEO is the practice of optimizing individual web pages in order to rank higher and earn more relevant traffic in search engines. On-page refers to both the content and HTML source code of a page that can be optimized, as opposed to Off-page SEO which refers to links and other external signals."
Basically, it's a combination of "on-page," "off-page," and "technical SEO" techniques that tell Google what your content is. Google then decides, based on that information, how to list your content in the search engines. Ultimately, that determines how, if, and when your content gets discovered by users searching for the information your content has to offer.
On-page SEO focuses on ways to optimize a particular webpage, at the page-level, for Google search. By targeting the right keywords and doing proper optimization, you are telling Google how to list your content for users to find.
Off-page SEO is link building. Link building is the process of acquiring backlinks to your website.
Technical SEO is just that, technical! This is an area where if you don't know what you're doing, you can do a lot of damage. So, if technical isn't your 'thing,' stay out! Do yourself a favor and hire an expert. But, just in case you want to give it a crack yourself, here is a good cheat sheet (good luck!). https://jjwebservices.com/wp-content/uploads/2015/11/seo-cheat-sheet.pdf
For the purpose of this article, we are going to assume that you have already done your keyword research and have your primary, secondary, and LSI keywords nailed down. Keyword research is a topic that deserves its own in-depth coverage, a discussion for another time!
On-Page SEO Checklist
1. SEO Friendly Permalink URLs – Short, Descriptive URLs
Here's a quick but demonstrative exercise: Which URL do you like best?
mysite.com/on-page-seo
mysite.com/blog/archive/9/1/2020/on-page-seo-checklist-2020/page/12/2875s52iol
I hope you picked the first one because that's the one Google would pick. It's shorter, easier to read, and gets directly to the point.
Always make sure your URL contains the main keyword, uses keyword phrases naturally, and is an accurate description of what the page is about. The goal is to make it simple, easy to read and recognizable to both the user and Google. If Google can't clearly see what your page is about, it won't be able to crawl it effectively. Lastly, never use underscores but always use hyphens.
2. On-Page SEO Clean Title Tags – Always Include Keywords
Your Title tag is arguably the most important on-page SEO element, so choose wisely! Title tags are what search engines crawl, and just like URLs, they use keywords in the title tag to determine the intent of the page.
They're also what Google displays in search results. So when a user is performing a search in Google, the results they see are likely taken straight from the title tag.
Your goal should be to write title tags that are clear, simple, sound natural, and get right to the point. You want to try to include 2-3 (primary-secondary) keywords within your title, and keep the primary keyword towards the front of the title (first three words).
Also, keep in mind that Google will limit your title text to 50-60 characters and 600 pixels.
Add Modifiers To Your Title
Adding modifiers to your Title like "2021", "Checklist", "Best", "Guide", or "Review" will help you rank for long tail versions of your keyword. This opens the opportunity to rank for a variety of keyword variations and tells Google's algorithms what your content is relevant to. Not to mention, as we move into voice recognition search, modifiers will become even more important in the very near future.
Wrap Your Post Title in an H1 Tag
The H1 tag is your headline tag. Most CMS platforms, like WordPress, will automatically add the H1 to your post title. However, some themes override this setting. You will want to check your site's code and make sure the title is wrapped in H1 tags that look like this: <h1><YOURTITLE><h1>.
3. Keyword Placement for On-Page SEO
Long gone are the days of keyword stuffing. Keywords are now placed strategically and decisively to rank your page on Google. Here are key areas for placement:
Title Description: In addition to using the primary keyword at the beginning of the URL link and in the Title tag, you will want to use the keyword in the Title description.
Breadcrumbs: The primary keyword should be reflected in the breadcrumbs. You should set up your breadcrumbs to use the post title data.
First 100-150 Words: Your keyword should appear within the first 100-150 words of your article. This lets Google know that your page really is about the keyword you are targeting and that your content supports that keyword.
Text Body and Keyword Density: Obviously, you will want to sprinkle in your keyword throughout the text of your article because that is, after all, what your content is about, right? But, it's a delicate balance to using your keyword at about 3% in your article for Google to decide if your page is legitimately ranking for that keyword, or if you're keyword stuffing (in which case, expect to be penalized). There are many online tools you can use to check for keyword density.
Side note: in addition to sprinkling in your keyword to the article, you will also want to include LSI keywords (Latent Semantic Indexing). LSIs are basically keywords that are semantically related to your primary keyword that Google uses to determine a keyword's relevancy and quality, to some extent. You can find LSIs by googling your keyword and looking at the "Searches related to…" section at the bottom of the search page results, or by using the GoogleAds Keyword Tool.
Meta Description Snippets: Meta descriptions are small snippets of text that describe your page's content and tells the SERPs what your page is about. Sometimes, your metadata will also show up on the SERPs result snippets, but sometimes Google will take a snippet from a more relevant part of your content. You want to make sure your description is compelling enough to get the user to click through to your site. Think of this as free ad copy space! Consider including a call to action, your unique value propositions, your brand name, any geographic locations/featured details about your business, etc.
4. SEO Friendly, Quality Content
You must have high-quality content to attract and build rapport with your audience, and that content must be SEO friendly in order to be found by your audience when they perform a search. You may soon be coming to the realization that in order to win this game, you can't have one without the other. Oh, the yin and yang of it all!
But, don't worry. We have a few methods of structuring your content so that you get the most SEO benefits to have a shot at ranking in Google.
What is "Quality" Content Anyways?
Kind of a no brainer, but first and foremost, spelling and grammar need to be correct. Now that we have that out of the way– quality content is what your target audience finds to be of value, relevant, and engaging. Enough to where it keeps your visitors on your page.
Google determines the quality of content with metrics like time spent on site, repeat visitors, bookmarks, and shares. Scoring well in these metrics is rewarded by Google ranking you on the first page of the search results.
Essentially, keep the human element alive and well in your content. Write naturally and write with the intention to give value in the form of information. Some of you reading this are thinking, "Easier said than done!" For those of you that truly struggle with writing or creating visual content, there are plenty of content creators for hire!
Quality content will build a fan base for your brand, increase dwell times on your page and site, decrease bounce rate, and ultimately, drive conversions.
What's bounce rate?
Bounce rate is when a visitor clicks on your link, gets to your page, and immediately leaves. Like, immediately! You might be thinking, "How rude!" but it's even worse than that– Google will see this as a negative signal. If the headline in your title is attractive and your content is captivating, this will prevent bouncing from happening because your visitors will take the time to actually absorb your page.
H2 Tags Are Your Subheadings
We tend to skim when we read, so do your readers a favor and structure your content by breaking it into logical, scannable blocks using subheadings. Lists and bullet points are also very effective at communicating very important points in a short amount of time.
Break your content up into easy to digest portions. Keep your sentence structure short and easy to read. Keep your paragraphs shortened to only a few sentences.
Subheadings provide a roadmap for your readers to follow as they navigate through your page. It also gives the added value of keeping them on your page longer when there is a sense of organization.
From an SEO point of view, subheadings are the place to add H2 tags and include keywords. Of course, make those keywords flow naturally so they don't seem out of place and only where it makes sense. Google will also be reading your H2 tags when it is deciding what to make of your content.
Long Form Content
When it comes to SEO, longer content performs better. SerpIQ conducted a study of the average length of the content in the top 10 results of search queries and found that the top-rated posts were over 2,000 words.
Longer posts attract more backlinks than shorter ones, which will increase its page authority and position in Google's rankings.
And as a bonus, more well-rounded and evergreen posts will help position yourself as a thought leader and authority in your industry.
Multimedia
Long blocks of text will only entertain your audience for so long. You will want to add visually pleasing elements to your content–images, videos, diagrams, infographics, and interactive material.
Not only is this more engaging and enhances the user experience, but it will also increase dwell time and reduce bounce rates (two Google ranking factors).
Optimizing Media – Alt Tags and Descriptions
You should aim to include relevant images every 200-300 words. Images give your readers a little room to breathe and help avoid bouncing, as well as increasing the dwell time on your site.
For the sake of SEO, you will want to make sure your images are correctly labeled with alt tags, and relevant captions and descriptions. You will also want to compress your images (to boost site loading speed).
Adding a small alt text to all your images communicates to Google what's in your picture, and it's an extra opportunity for you to add your keyword in the description/alt text. The keyword should be in the file name for the post image and save the image name using hyphens instead of underscores.
5. Links
Internal or Inbound Links
Internal or inbound links are hyperlinks added to anchor text leading to other pages on your website. Basically, you're connecting to your own web pages.
As a goal, your inbound links should be to increase the time visitors spend on your page and site, which in turn will send positive signals to Google.
Again, you want to ensure that the internal links are relevant to your content and used in a natural way. Each subsequent page that is being linked should be related to the given topic and ultimately adding value to the reader experience.
As a side note on internal links, remember to update your links often and check for any broken links.
Out-Bound Links
Outbound linking is when you hyperlink anchor text to another website or webpage. When you do outbound linking to a relevant and high authority site, Google understands your content, what it is about, and also shows that you are adding value for the readers by linking out to useful resources.
6. Social Sharing Buttons
Do yourself a favor and make it easy for people to share your content. There are several plug-ins for CMS platforms that make adding social sharing buttons easy to install.
Installing these buttons encourages mass distribution of your content across multiple social media platforms, which can send signals to search engines that your content is valuable and worth ranking.
Social signals are playing a larger part in signaling search engine algorithms. Plus, it creates additional touch points with your brand, which can result in more traffic, improved sentiment, and at the end of the day, conversions.
We hope you learned something new about how to use On-Page SEO for your business. And we have to be honest with you, this article only scratches the surface of what it takes to master SEO for your website. We wanted to introduce the concept of On-Page SEO and give you the top areas you should focus on when you're first planning your SEO strategy.
If you're looking for a 10,000 ft view, we highly recommend GOTCH SEO's post with 80 (yes, 80!) checkpoints every website should consider for SEO.
We know that it's overwhelming, hence our small checklist to get you started. But, you may want to consider leaving your SEO in the hands of experts and give us a call. Let's face it, SEO is complicated! But we make it easy for our clients because we do all the work and remove every stressful element from the SEO experience. Find out if we are a good match for your business needs and have a chat with us.