The Best Video Tips for Social Media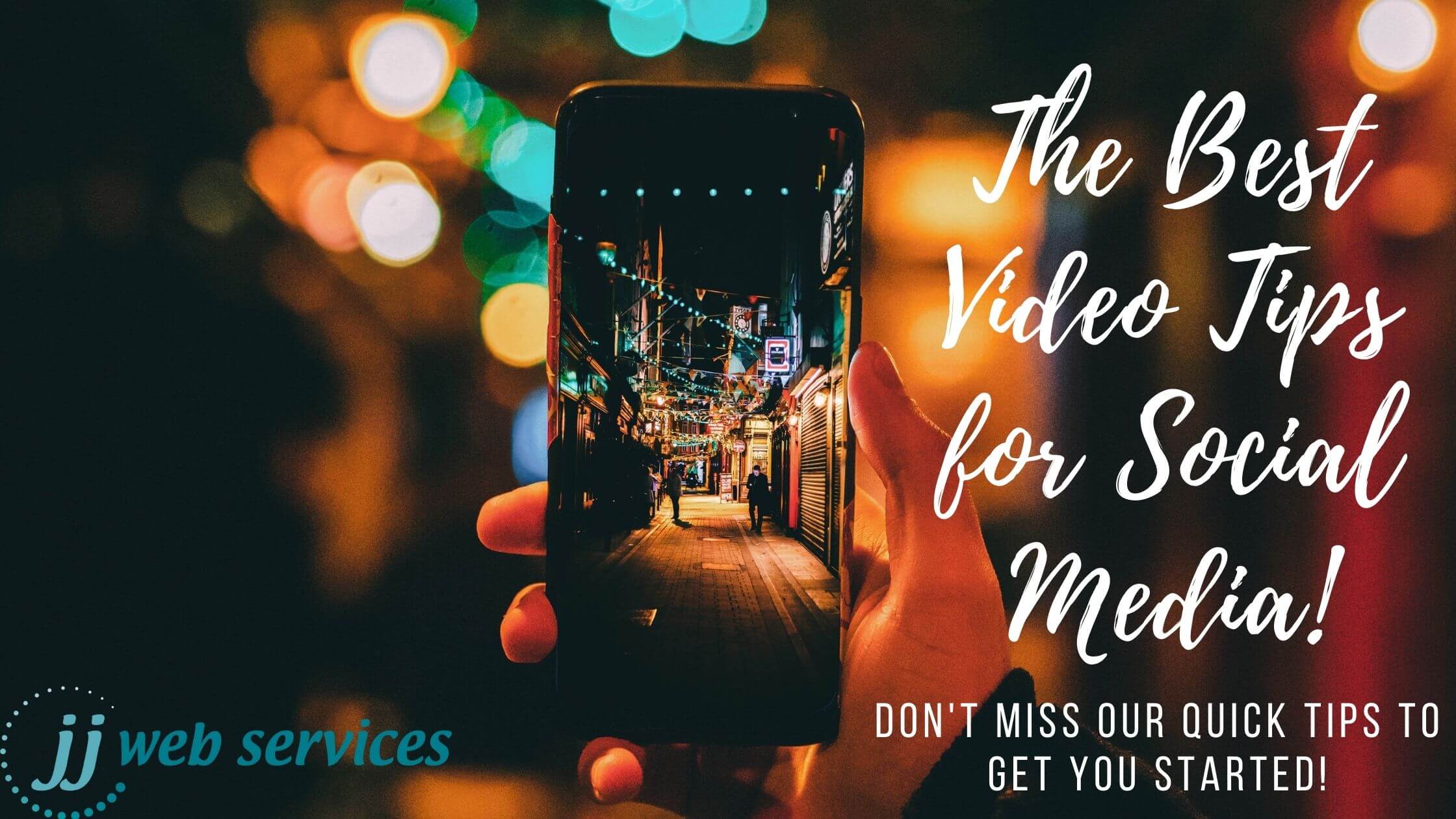 The Best Video Tips for Social Media
Video has exploded. Due to the rise of the smartphone almost everyone you know is filming videos! If video is something you want to try but have been hesitant to do – keep reading and we'll go over our most commonly asked questions and our best video tips for you to go from amateur to social media ready. 
With all the different platforms out there for you to upload to, let's talk about Best Video Practices. Honestly, there is nothing more frustrating than filming a video and realizing afterwards that it was shot in the wrong orientation for the platform you want to upload to.
Question #1: Which Way Should I Hold My Camera?
This is probably the MOST commonly asked question when it comes to capturing video. Now, the answer may not be as straightforward as you'd hope, but it is simple once you know your purpose because it really depends on what you are filming for. 
As a general rule, for any type of filming, horizontal filming is best. It is the wide-screen format that we are all used to watching (think how you watch TV and movies.) When you film horizontally, you capture most of the story and background, and provide the most complete picture for your viewer.
In terms of social media, YouTube videos are shot horizontally and if this is where you will be uploading most of your content to, and this is your main advertising solution, then horizontal it is!
Note, your viewer will need to turn their phone sideways to consume this content.
Question #2: Which Social Media Platforms Support Vertical Video?
Having said that, if you are filming a video to post on your other social media platforms, other than YouTube, most of the social media platforms support portrait/vertical vs horizontal/landscape videos. 
If you are creating videos for some of the popular social media channels, like:
Tik Tok

IG Stories 

Instagram Reels 

IGTV (mainly vertical though it does now support horizontal videos as well)

Facebook Stories

Facebook Live (FB Live can handle both, but you need to choose your orientation before you start the video)

Pinterest Video Pins
You can hold your camera vertically!
An interesting stat to ponder is one from Mediabrix, an online advertising platform, that states:
90% of videos that are watched vertically versus horizontally have a higher completion rate. Less than 30% of users will turn their phones sideways to watch an ad and users who do turn their phones sideways only watch about 14% of the video. 
It's something to think about especially if your main digital marketing solution happens to be video.

Question #3: How Do I Convert Video
So what happens if you've got a great video that you filmed landscape/horizontally, but you want to upload to Tik Tok that only supports vertical videos?
No problem, there are ways to fix this so that there are no black bars on the top and bottom or the sides of your video. 
You can use apps like Inshot for both iPhone and Android users to fix the ratio and change it from horizontal (16:9 aspect ratio) to (vertical 9:16 aspect ratio) 
Just note, once you put them through the converter, with the change in aspect ratio, you will lose the sides of your video.
The Best Video Tips – Quick Tip Style!
Now that we've covered the key points above, here are a few more quick tips to make sure your videos pop!
Good Lighting – Be sure to have good lighting. Using outside light or being in front of a window indoors is a great solution when you don't have external lighting.

Good Sound – There is nothing worse than muffled, disjointed sound in a video. It is distracting and a surefire way to have your viewers leave the video.

No shaky footage. Same as above! Distracting and a surefire way to have your viewers leave the video.

Don't Zoom – Walk to your subject. Zooming reduces the quality of your video.

Plan how to end your video. Know what you will say to wrap it up. Your call to action is extremely important and without planning a good CTA, video endings result in rambly messes without a clear action for your viewer to take after watching the video.

Bring the energy. You need more energy than you think to engage your viewer. Boring videos don't do well. Bring the energy and smile to make the video interesting and get it off on the right foot!
That's a Wrap on our Best Video Tips!
If you're entering the video arena and using it as a key part of your marketing strategy, it is important that we keep up with the trends.  
As video marketers, our job is to reach our target audience by bringing them relevant and interesting videos that make them take action. With more and more video being consumed on mobile devices, the importance of creating the right type of video for the right platform is critical.
Good luck and use the above tips to help you create your videos!  
Most importantly, have fun!
——–
If you'd like help with your videos and your video marketing campaigns, then reach out!
We'd love to hear from you!