Smarter Email Automation with Mailchimp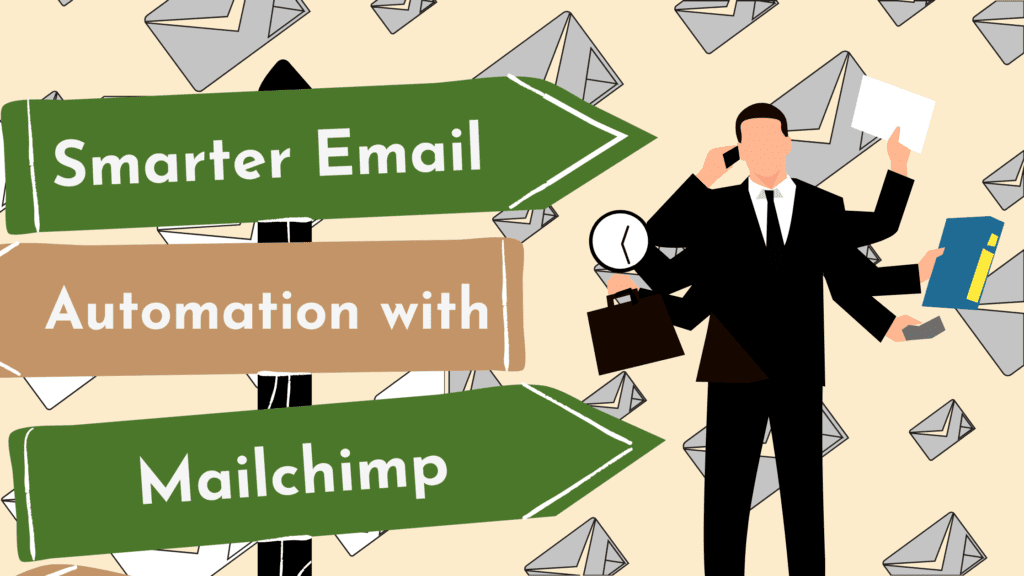 The email marketing tool market is a niche for everyone. There are plenty of choices for business owners and marketers to pick from, but how can you tell one version is better than the next? MailChimp definitely stands out from the rest. From landing page design to automation tools and back again, MailChimp offers many features available to help you improve marketing efficiency while engaging prospects and customers. Based on our extensive research, there are a few features you can leverage for your next campaign.
MailChimp survey tool makes collecting responses simple.
The MailChimp survey tool is a powerful and versatile way to collect data from your customers or audience. But it's not just a survey tool—it's also a way to capture your audience's email addresses and other personal information. If you're running a business, you can use your survey results to create an email list, for example, and send them more information about your business.
Here are some of the ways you can use the MailChimp survey tool:
Collect customer feedback.
Use surveys to get valuable customer feedback about how well you deliver on your promises. You'll learn what works and doesn't and how to improve in the future. The more frequently you ask questions, the more accurate your results will be.
Gather demographic information.
Surveys can help you understand who your customers are so you can better target them with offers relevant to their interests and needs. This information is especially helpful if you're starting an email marketing campaign or trying to expand into new markets for your products or services.
Ask for permission before sending emails or text messages.
If someone has signed up for your mailing list but hasn't given permission to receive marketing messages yet, then sending them one without permission could get you in trouble with the law (and nobody likes legal issues). You need permission first before sending
MailChimp's A/B testing tools help you perfect your campaigns.
When it comes to A/B testing tools, MailChimp makes it easy to find out which version of your email is performing better and make changes accordingly. The goal is to find out how people react differently to two different options so that you can optimize your campaigns accordingly. In the case of MailChimp's A/B testing tool, you can compare the results from two different subject lines or call-to-action buttons to know which version works better before sending it out into the world.
You can use MailChimp with other platforms and software.
MailChimp has an API that allows you to integrate it with other applications and services, such as Salesforce or WordPress. With integrations with tools like Salesforce, Shopify, WordPress, and Google Analytics, MailChimp lets you connect with your existing systems in ways that might make sense for your business. You may want to use MailChimp to manage your email campaigns from within Salesforce or pull data from Shopify into MailChimp so you can segment it. Or perhaps you want to create a Facebook ad campaign using the Facebook Pixel, which would allow you to track the performance of that campaign in MailChimp.
Personalize Emails, Automate them or choose from Rre-made templates.
MailChimp has various templates that you can use for creating newsletters with different styles or themes. You can also change these templates whenever you want or create new ones using HTML code if you want more freedom or need something specific MailChimp's mailing tool has a drag-and-drop builder that makes it simple to create beautiful emails. It also offers a wide variety of pre-made templates to choose from or customize as you please.
Templates allow sending out an email blast on a whim without spending hours crafting each individual newsletter. You can also go with their auto-responder series, which allows you to program your messages to change over time based on user behavior. For instance, if someone reads one of your newsletters but doesn't open the next ones, you can set up MailChimp to send them a different message the next time around, encouraging them to give you another chance. This kind of personalization can really increase the effectiveness of your campaigns.
MailChimp's marketing automation feature allows you to segment your contacts into lists and automatically send customized email campaigns based on their behavior. For example, you can set up a welcome series that begins with a welcome email, followed by a series of automated emails based on how they interact with your site. A triggered campaign might include 3 emails: a thank-you note if they purchase something from your store, a follow-up if they viewed the product but didn't buy it, and another follow-up if they viewed the product but didn't take action after two weeks.
You can keep track of all Email Analytics on a Dashboard.
MailChimp provides useful analytics tools that track how well your email campaigns perform — both in terms of opens and clicks and which parts of the message are most effective at driving engagement from your audience. MailChimp allows you to know how people are engaging to your content. It also shows you how many people unsubscribe from your list. This information helps you improve the quality of your campaigns and measure their effectiveness.
MailChimp's dashboard is a treasure trove of information, visualizing the engagement and effectiveness of your email campaigns. The default dashboard shows a lot of information about your email campaigns, including the days and times people open emails, how long they spend reading each message, and even which links they click. This type of information can help you figure out what kind of content works best for your audience. You can also see the breakdown by device type or geographical location to find out whether people prefer to read their emails on computers or phones or in which regions they prefer to open their links. You can even see which links are most popular among subscribers. If you're using the opt-in feature for marketing purposes, MailChimp also lets you determine whether subscribers opted in by clicking on a link in an email or by filling out a form on your website.
Conclusion
With all these options available in MailChimp, you can craft the perfect emails. With the great design and layout that similar survey tools lack, MailChimp's clean look makes it harder for your audience to get distracted. Numerous tools are available at no extra charge and are very user-friendly. With extensive customization options and making it easy to use without coding knowledge, MailChimp is a great tool for any company or person to take their email marketing to the next level and make it really stand out from all the other emails. Contact JJ Web Services to find out how to refine your email marketing with MailChimp Automation features.