Top 3 Reasons Why You Should Hire A Professional To Build Your Website and Undertake Revisions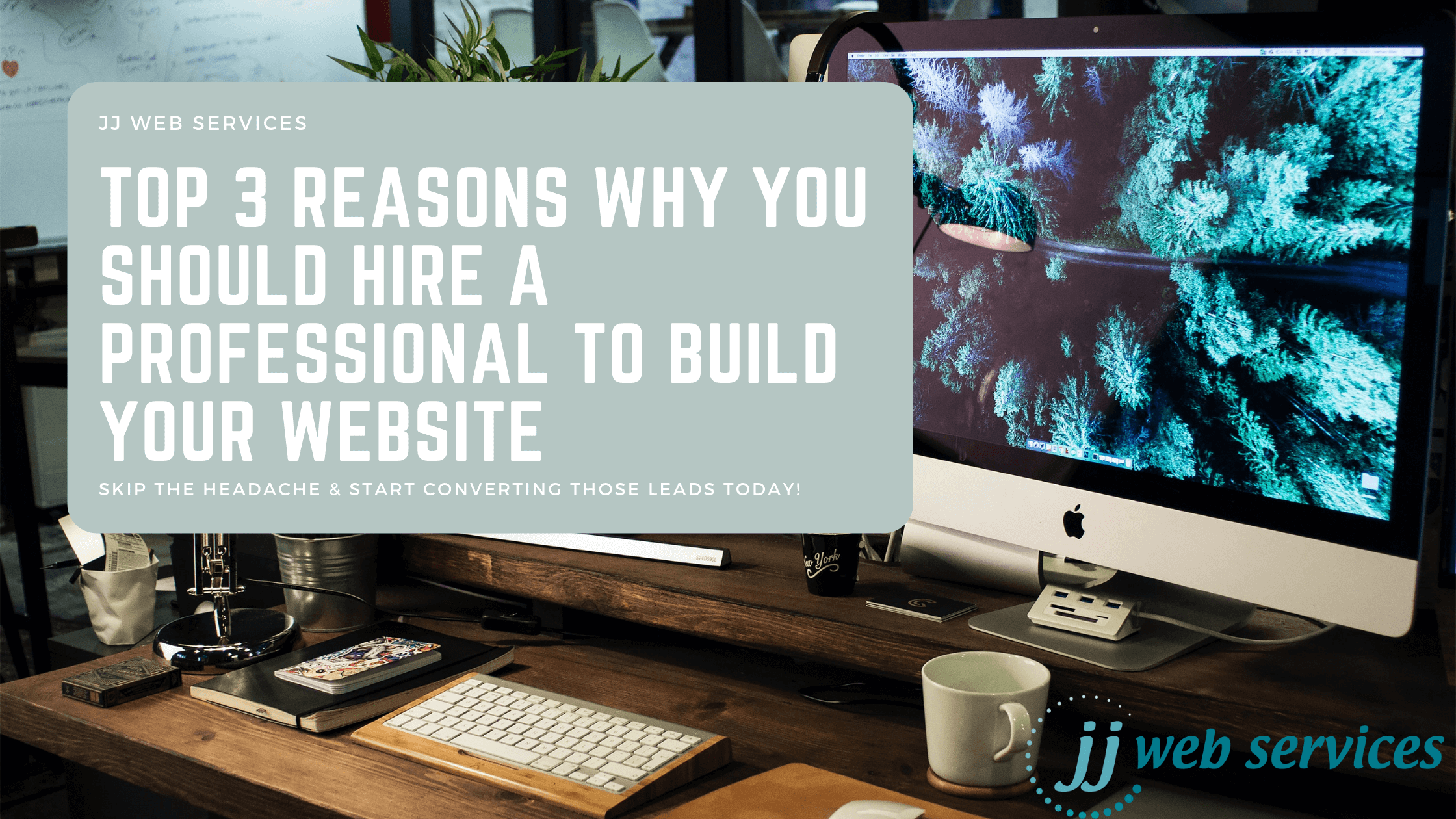 Top 3 Reasons Why You Should Hire A Professional To Build Your Website and Undertake Revisions
With more and more people flocking online, it is virtually impossible to find a business without a website. No pun intended! So why would you go to hire a professional to build your website when it is such a common necessity? Keep reading and we'll give you a few common factors we see. 
A website is an essential stop in the process for potential customers. It allows potential clients to learn more about your business and allows them the space to decide on using your services without any external pressure – to do their "homework" so to speak.
Since a website is such a critical part of any business, why is it that so many people assume that they can cut corners and build a very important aspect of their business themselves?
So here our Top 3 Reasons why you should skip the headache and hire a professional to build your website.
#1. DIY Website Mistakes – Easy to start, but hard to use long term:
The question for many business owners is this:
With all the DIY website building options currently available that claim how easy it is to build your own website with a click of the mouse (and at a fraction of the cost) why would you decide to hire a professional to build your website for you?
The truth is, there are many different reasons and all of these reasons will make a difference in your business ROI. The Bottom Line is your time is valuable. Those couple of clicks often lead to headaches down the road and those headaches lead to you having to either pay a developer to fix your site, redo your site, or create a bunch of costly plugins to patch your site. Why not invest in a clean, functional site with everything you need from the get go?
#2. Your Business is Your Business – and Developers are Developers
Whatever it is your business does, that's what you're good at. If you look at successful companies, they do one thing great and scale. Chances are, your core skill is not building websites and optimizing code on them.
Therefore, it's a task that is more advantageous to have a professional handle – much like you would hire a painting company to paint your office.
Even if your business is not 100% of your income, your website is often a customers first impression and you want to put your best foot forward. Looking at your website, visitors will make a quick judgement on whether or not they will work with you. 
There is a lot of competition online and for you to attract customers, get brand visibility and to be noticed, you need the expert advice of someone who not only builds websites but understands how to market you and your business for the best possible results.

When you decide to hire a professional to build your website you get the necessary revisions to stay relevant and their experience to execute your marketing. It's one of the most important decisions and ROI investments that you can make. 
Not only does a professional do this type of work everyday and is an expert in it, but they understand what is needed for you to compete in the highly competitive online world. Professionals can deliver results that most DIYers have no clue how to achieve, let alone begin to navigate on their own.
Let's be honest: It's so much easier to say I want a website that my customers thinks is aesthetically pleasing, mobile friendly, and can automatically post all of my reviews on the homepage than it is to go through the millions of plugins, tips, and techniques to build it out yourself.
#3. The Possibilities of a Professional!
So What Types of Things Can a Professional Web Designer Do For You? 
Now that you understand why hiring a professional is the right way to go, let's talk specifically about what professionals can help you with.
First off, when you hire a professional to build your website or help with website revisions or marketing you also get a team of people who are working to help you achieve your goals. 
The goal of a web designer is to create the right layout, visual appearance (they want to make it look great), and usability of your website. A web developer is someone who builds and maintains the structure of a website and ensures that it is functioning properly.
Professionals will add custom features specific to your business, and they know how to design your layout so it works for mobile and desktop users. Perhaps even more importantly, they know how to structure the content and ideas to generate more sales for your business. Yay conversions!
Below is an example that we do, as a full service design and marketing company, when we are hired by our clients:
We are quick and effective at creating websites and website revisions. This saves you time and money. These changes make a difference and depending on the types of changes – can help boost your SEO. In turn, helps you gain views, leads, and ultimately sales. 

Our team automatically optimizes content for SEO.

We make sure your website loads fast on mobile and desktop devices.

We reduce the extraneous code on the page by knowing the best and safest web code to use.
So What Do You Think? Ready to Hire A Professional To Build Your Website?
To discover more of what a professional designer can do for you, reach out to us and take our free website audit here. 
Whether you need help building a website or undertaking revisions, having a professional on your team is an important and critical part of the puzzle.
Get your free website audit here.