Streamline A Paperless Workflow with Adobe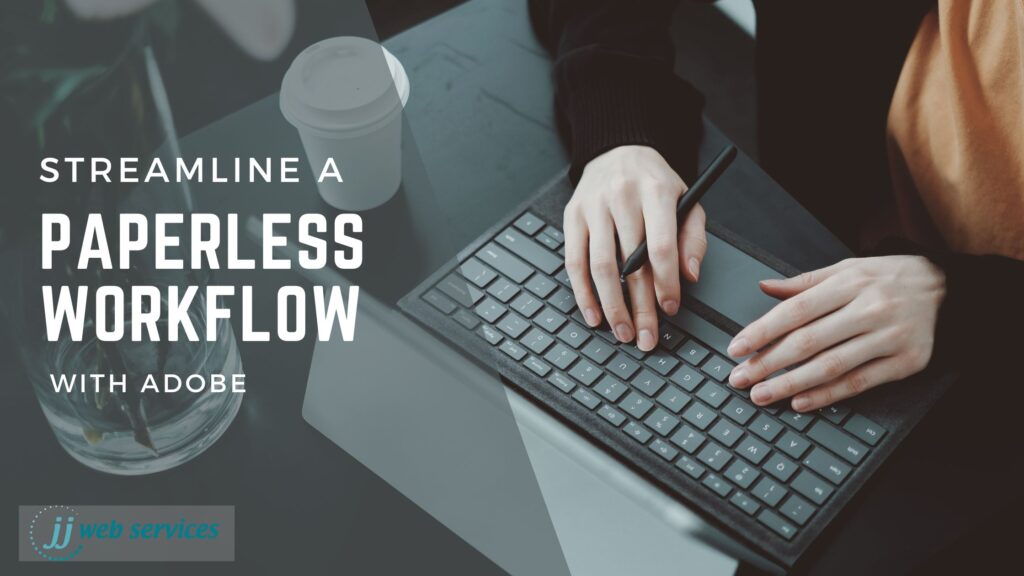 If you work in an office, then you already know the importance of paper when it comes to completing tasks. The truth is, even today we still deal with a lot of paper-based documents, but that doesn't mean we have to continue living like this forever. There are many ways to go paperless in your workplace, including using Adobe Online tools. Here are some of the features to take advantage of:
Scan documents with Adobe Scan
There's nothing worse than having to sift through piles of paper files to find what you're looking for. With Adobe Scan, you can scan your documents into PDFs and store them in the cloud for easy access at any time — or even share them with your team members. You can also use this app to fill out forms, sign documents and even convert paper files into digital ones.
Access and edit documents anywhere
Need to edit a PDF? Adobe Acrobat Pro DC lets you edit text, redact sensitive information, and add comments directly onto PDFs. So, if you need to make small changes to a document that was sent over by your colleague, this is an easy way to do so without having to print out a copy of their email. With Acrobat, you can access and edit documents anywhere with an internet connection. This allows employees to work from home, on the road, or in any other location. It also lets all members of your team share files, no matter where they are located. No more complicated email attachments or time-consuming file transfers between offices. Just send a link and let your colleagues view it right away on their browsers or mobile devices!
Sign documents on the go
This is helpful when conducting business meetings over video calls or conference calls. It can be difficult to ask participants if they'd like to sign off on a document. With Adobe EchoSign, participants can simply sign documents right from within the chat window without leaving their browser windows open or disrupting their workflow!
Create forms and send them out for signature.
If your company uses forms, you can save time by creating them in Adobe Reader and sending them out electronically. Create the form once and use it repeatedly, without retyping the same information or printing off new copies. You can use Adobe Sign to create PDFs with embedded fields that capture data from the person signing the form. When they return the signed document, their information is automatically saved in your Adobe Document Cloud account where you can access it at any time.
Embed video, audio, and interactive quizzes into PDFs.
If you want to make your content more engaging, one of the best ways to do that is through multimedia. Embedding video and audio into PDFs is easy with Adobe Acrobat Pro. This can be done using an interactive form feature built into Acrobat Pro called LiveCycle Reader Extensions (LRE). LRE allows you to insert things like quizzes and forms into a PDF document that uses data from the document like names or numbers. The results are automatically added back into the document for everyone who opens it. The other great thing about LRE is that it's not limited just to Adobe Acrobat Pro users—you can also embed these types of widgets in InDesign documents as well.
Convert paper files to digital ones.
If you have any physical files that need to be scanned, you can use another Adobe tool called Acrobat Pro DC to convert them into digital files. Then, you can save all those scanned documents in one central location so they're easy to access later.
Find the perfect images for your projects
The powerful search engine in Adobe Stock makes it easy to find exactly what you need when you need it. The more you use it, the better it gets. Whether it's a specific color palette or lighting style, an emotion or mood — or even a particular person — the search results will show you all of the images that match those criteria. Adobe Stock is part of Creative Cloud, so you can use it across desktop apps like Photoshop and Lightroom CC as well as mobile apps such as Lightroom Mobile and Photoshop Fix.
Conclusion
We know there are many ways to go paperless in the workplace with Adobe, and these tools can support a variety of needs. Whether you're looking for an easy way to read and annotate PDFs or embed interactive quizzes into your documents, Adobe Online has got you covered. The Adobe Online tools have been designed to be easy to use, secure and affordable. They are also flexible and scalable for your business. Ready to take this opportunity to ensure your business stays up to date with its digital world? Click the link below and book a consultation with us to find out what Adobe tool works best for you.