The 80/20 Social Media Formula: Only 20 Percent is Promotional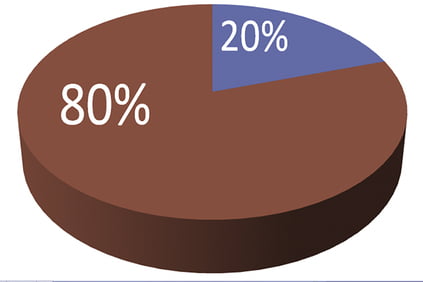 The 80-20 rule is a part of a social media strategy. This means only 20 percent of your content should be promotional, the rest can be content that really interests your audience and engages them in conversations.
Just because social media is a part of your marketing mix that does not mean you should force feed online sales pitch. It is about building relationships rather than annoying your audience with irrelevant content and talking about you constantly. Being social is not a platform for online sales pitch.
Here's how you can apply 'The 80/20 formula' :
The 80 percent of shareable content:
This part will include content that basically excites the user. This will include any compelling content from influencer whose ideas match with yours. It should match your business ideals and the way you do your business. This could be in the form of retweets, inspirational quotes, links to news, questions, etc. Just look out for content that appeals to your audience. Share this on your social channels and compare it through your own personal RSS reader to catch some interesting new items. This part requires more effort than your 20 percent quota of content. Review your content if it's not something you want to share why would your visitors?
The 20 percent of your brand's content:
The 20 percent will exclusively deal with specials with your brand, also include information that benefits your audience. The whole idea is that most of your content should be from a user perspective. The audience will be interactive if there is something in it for them. Make sure you have a persuasive call-to-action that inspires your audience to react and learn more about your company. Follow the influence and find out what they find is interesting. Share interesting content with your own followers, and connect to them.
To cut a long story short, if a brand focuses too much on itself within social media, its audience will immediately see right through it and tune out. Only by discovering what your audience really likes and accordingly responding to those needs, will make your brand consistent and engaging on social media.