5 Ways To Boost Online Marketing with Social Media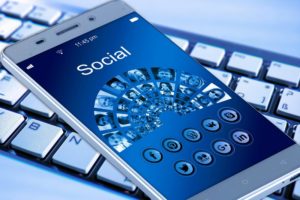 In today's world, using social media is one of the most important ways to grow and market your business. Oftentimes, business owners feel that they're too busy to spend time on marketing.  Most of the time this is true — and to be honest, sometimes online marketing is best left to the professionals.  The important thing is that someone is doing social media marketing for your business.
Online Marketing with Social Media
Online marketing might seem a little intimidating at first, but there's a reason why 90% of marketers say social media is important to their business — it works!
Setting up a Google My Business page
This listing will get your business on Google Search, Google Maps, and Google Plus, and will encourage your customers to review your business. A show of local business reviews tends to receive high rankings in search results, giving you an edge over your local competition. Google Plus local reviews also influence the search rankings of people you're connected to, meaning your business reviews may also appear when people you're connected to search related keywords on Google.
Getting Connected with Facebook
Facebook is often considered the number one tool for social media marketing. Creating a Facebook page for your business can help customers find your business easily and thereby contact you with any questions or concerns they might have. Facebook is a fantastic way to promote your business, but you need to stay up to date with sharing and posting to keep your followers engaged. This is why it's ideal to have someone in charge of your business' social media and have them develop a posting schedule.
Connecting with LinkedIn
LinkedIn can be a powerful tool for companies looking to expand their connections and build their brand. It's important to be connected with all the major social media sites, but LinkedIn can be a real game changer for B2B (Business to Business) interaction. Unlike your personal LinkedIn profile page, your business page is ranked on the web which means if you're set up right, you'll rank in a search.
Quick tip for getting ranked:  make sure that the summary explanation of your company page includes plenty of keywords. This gives you a better chance of showing up on search engines like Google and Bing.
Using Twitter to Market your Business
Twitter is a great and effective way to engage in online marketing and gain fans in the form of followers. Creating a fan means you'll have someone loyal to your brand and particularly interested in engaging with your company.
One of the advantages of tweeting is that you can keep it short and simple by just sharing an article or a picture, which often gains more traction than a lengthy post in today's soundbite obsessed world. The main reason for utilizing Twitter is to connect with potential customers and market your products, but you can also use your Twitter account to make important announcements and share any pressing news. 
Creating Your Personal Brand and Logo
When starting your own business, your brand and logo speak volumes to your audience. You want eye catching content that expresses your company's purpose and relays the message that you want to get across. Don't overlook or underestimate visual branding. Your logo is the face of your business and may be the only takeaway a first time potential customer gets. Make it memorable and make sure it's always visible for your social media followers.  
One final tip:  when you're posting to social media, it's important to be consistent with your topics, post relevant and compelling information, and to post regularly. This will keep your audience engaged and encourage followers to share your posts. 
Good luck with your online marketing and contact JJ Web Services for assistance!