Sucuri: Your Website Security

You wouldn't let a stranger into your home. Without proper website security, you're inviting hackers to invade your digital home with open arms. You've worked hard on promoting your business through a professional website: follow through and protect it with Sucuri.

In every aspect of life you hear reminders about safety: "wear your helmet," "buckle your seatbelt," and "look both ways before crossing the road." But what about reminders regarding the safety of your website? Here at JJ Web Services, we work hard to remind our clients of the importance of keeping their website secure. More than that, we dig deep to find the best website security companies to confidently promote to our clients. In our hunt for the best security companies, we've come across just one that we believe rises to the occasion: Sucuri Website Security.
Sucuri, like us, works with their clients to find the best way to keep their websites safe and free from attacks from both malware and non-malware. The idea is to get set up with proper website security before a security incident occurs, but we know this is not always the case. For this reason Sucuri has a set of appropriate and potent measures to get your website back to the way it was and the way you want it.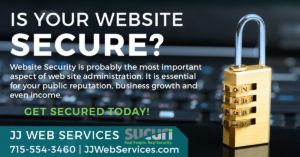 Whether your website is currently under attack or you want to protect your website from future attacks, we highly suggest Sucuri for all of your website security. Sucuri offers a variety of security services ranging from protective firewalls to scanning for attacks to removal and cleanup. You worked hard creating your business and website: let Sucuri work hard at keeping them safe. There's also 24/7 support so you can be sure to have peace of mind regardless of the time of day.
Because we care about our clients and because we are so confident in the services offered through Sucuri, we're offering special pricing to those interested in Sucuri Website Security. The services offered are a $200 value, but here at JJ Web Services, you will get the same services for less than half the price. Contact us today to learn more and get your website secured.
The quick answer to your question "Why are we having so many issues all of a sudden?" is: because there are more and more people wanting to learn how to hack websites to:
1) Make money,
2) To steal information,
3) To cause problems and troubles for others.
I have heard it's as addicting as video games and drugs. Friends will challenge their friends to see who can hack into a website the fastest. So many people use WordPress and common passwords; which just opens the door to your website and account information. We need to make sure we keep everything up to date and use very hard-to-guess passwords.
Overall, the internet is getting hacked more often and viruses are being found frequently. If it seems like you are hearing about more hacks, data breaches, viruses, malware, cyberattacks and identity theft these days, it's because there are more incidents than ever. Yes, cybercrime is indeed on the rise. That's probably because people are putting more of their life and finances online with each passing year. In other words, there are just many more targets for hackers to attack.
These threats are far from a secret. Software companies, gadget manufactures, banks, retailers and even hospitals and schools are locked in an arms race with hackers to constantly plug up security holes. Meanwhile, clever hackers push the envelope coming up with innovative new ways to trick people out of money and information. Sadly, far too many of us make it far too easy for crooks to have their way.
Advanced hackers are making tools that let intermediate or even beginning hackers pull off tough jobs. That means more hackers with advanced tools are swarming the internet, so chances are good that sooner or later, you will be a target.