WordPress.com: Free vs. Premium Versions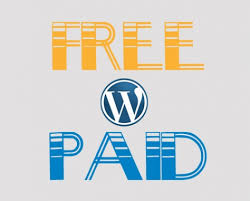 Be it a small business or a blog, there are a few reasons why you should consider using WordPress. First, it is free and open source. Second, it is popular with beginners and experts alike as it is customizable and easy to learn. With no experience in web design or programming required, WordPress is an obvious choice for a small business.
WordPress has two options: WordPress.org and WordPress.com. WordPress.com is for beginners as the platform hosts the blog for you and provides you with the analytics. You start by signing up, getting your businessname.wordpress.com URL, free themes and start right away. WordPress.org is suited for the seasoned blogger who requires the ability to tweak every aspect of the site, right from media to HTML. If you want to use WordPress.org, you need to sign up a web-hosting service like BlueHost or HostGator.
WordPress.com: Free or Premium Versions
Let us focus on WordPress.com which has two versions. You have the paid version and the free version. Now, you would certainly be eager to know the difference.
WordPress.com blogs has banner ads. Its something you have to live with for not paying for the Premium version. Don't worry, you will not get these ads 100 percent of the time, nor will they be huge. For a small to medium banner ad at the bottom of post, then consider Premium or WordPress.org.
You can change your fonts in your theme, color schemes, and CSS, if you go for Premium. If you are looking to have 100 percent control of things like this, then skip Premium and go for WordPress.org.
If you have decided to choose the free version and you want to use your own domain name (mybusinessname.com instead of mybusinessname.wordpress.com), you will have to purchase domain mapping on WordPress. After you have purchased the domain name from register like like GoDaddy.com, WordPress (free version) will charge you a $ 13 to use it on your blog mapping on WordPress. WordPress does this automatically with the premium domain. You can also purchase the domain right when you sign up.
This option works if you want HD video on your blog. Premium version will offer you this option.
You get 3GB of space for files and images. With the premium version, you get a 10GB extra plus the ability to upload audio files.
What I would suggest is that you try the free version before going for the premium version. If you like what you see, go for the WordPress.org. instead of the premium version.